If you are looking Best Italian marble Company In India then JSB Stonex helps you embody your idea into a beautiful reality. Along with that we also provide all our clients with the most delightful results of what they desire. We are a vertically integrated company with the best infrastructural facility which includes the cutting and processing of the stones, local sales network and most importantly the ever-growing sales network abroad. We also manufacture and supply the best quality The stone industry is one of the world's most ancient industry, rich in tradition and culture. With a vision of adding more to this industry, We at Jai Shree Balaji Stonex helps you incarnate your contemporary dreams using all the technological advances of the current times and yet retaining the classical value.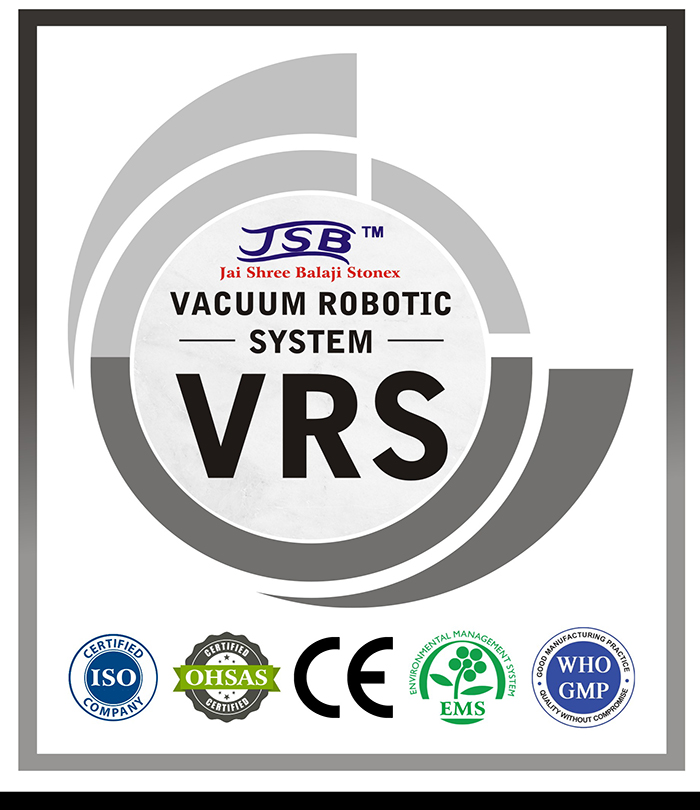 Vacuum Robotic System (VRS) for marble processing first - step acqistion process for best quality blocks reinforced and cut according to international criteria double-sided italiyan epoxy for structural effectivness stedfastness quality guaranteed for present and future
Best Italian marble Company In India | Best Italian Marble in Kishangarh
JSB Stonex is one of the Best Italian marble Company In India. that can assist you with Italian exotic marble to decorate your flooring. The finest interior decorators and builders have understood the distinction that Italian marble holds since the dawn of time. Italian marble is much more delicate and porous than Indian marble, and it has a high luster and a crystal-like appearance. Italian marble can add an enchanting touch to your home. They are imported into India as slabs or blocks and come from different parts of Italy. Similar to this, each collection at JSB Stonex is sourced from the best and most significant quarries around the world. Each slab is committed to the world classification of 2 cm thickness, pre-cut, and pre-polished by the best Italian craftsmen and known for Best Marble in kishangarh.
This kind of marble is backed with a tiny nylon sheet to add further sturdiness. Additionally, in order to strengthen its strength, Italian marble must be processed with epoxy resins and complementary colours; as a result, one side of the marble will always be pre-polished in order to conceal the chemical resins. Both Italian and Indian marble are frequently used for countertops, wall cladding, and flooring. Heavily loaded furniture should never be carried across marble because it is delicate by nature and could cause scratches.
Avoid using marble on the kitchen countertop as it is a thin stone and is prone to stains. This is because acidic liquids like vinegar, sauce, lemon juice, citrus juices, wine, etc. can etch and stain marble. By routinely updating and extending our product lineup, JSB Stonex, well known for Imported Marble in Kishangarh, has kept up with the developments in the international stone market. We are now the leading natural stone suppliers in India and a pioneer in the global sourcing of stone of the highest calibre. Our Director of Purchase inspects quarries, chooses stone for our discerning clientele, and continuously seeks out new materials to add to our ever-expanding variety while travelling the world. Our extensive selection of natural stones are distinguished by stunning designs. Our line is renowned for its elegance, toughness, and textures.
Why JSB Stonex is Best Italian marble Company In India
We export Best Marble at best price in Kishangarh and have expanded our selection of natural stone to include engineered stone in order to stay current with evolving client preferences and technological demands. At affordable pricing, our assortment of engineered stone offers beautiful replicas of natural stone. With the best and most up-to-date cutting and finishing tools for marble stone, we have a fantastic collection of Italian marble and Best Italian Marble in Kishangarh, granite, and sandstone. For cutting, finishing, and delivering the marble stone with the newest technology, we have a completely qualified crew.
JSB Stonex is one of the top and Best Italian Marble in Kishangarh. sells products all over the world and has a large import and export network. We are one of the best marble producers, suppliers, and exporters of various types of marble stones at competitive prices, including granite, onyx marble, statuario marble, kishangarh marble, Indian marble, and marble from India and Makrana. If you're looking for Best Granite In Kishangarh or marble of any kind in India or anyplace else in the world, you've come to the right site. We offer premium marble, granite, limestone, and other materials at wholesale prices in India or anyplace else in the world. In India, Kishangarh is referred to as the Marble City. You can purchase high-quality imported granite, semiprecious stones, onyx, and Indian marble from the Best Italian marble Company In India then you can deal with JSB Stonex. Perfect service, cutting-edge theory, experienced management, careful attention to client needs, and persistent efforts to expand our entire business line are the foundations of our strengths.
For the production of elegant architectural and interior design projects, our selections of natural stones serve as a palette of lovely hues and subtle delicacy. We have granite from every region of India as well as Rajasthan's finest White Marble in Kishangarh. We are a one-stop shop for contractors, architects, and interior designers thanks to our selection of products. We oversee every step of the commissioning and implementation of the work, providing both technical and design support. The continuous and exacting quality control continually ensures flawless project execution.
Since 1993, JSB Stonex has been a part of the thriving Best Italian Marble in Kishangarh business and can count on a million happy clients worldwide. Our customers receive extensive flooring solutions under one roof because we are a one-stop shop for all flooring stones. We are the most trusted manufacturer and Exporter of high-quality granite, sand stone, and Marble in Kishangarh, India, and we source our materials from the top Mable market marble suppliers. We at JSB Stonex take pride in the fact that we are one of the most renowned natural stone suppliers in India, providing unmatched goods that meet the needs of our esteemed customers. We offer a high-quality and attractive range of imported and Indian marbles for your home, restaurant, business, hospital, and a variety of other locations. 
Welcome to the enchanting world of natural stone elegance in Kishangarh! In the heart of Rajasthan, the city of Kishangarh is renowned for its rich tradition of exquisite Marble and Granite in Kishangarh. Among the multitude of stone suppliers in this region, We stands out as a beacon of grade and excellence. Whether you are an architect, designer, homeowner, or a stone enthusiast, We are your one-stop destination for the best Marble and Granite in Kishangarh. Join us on a journey through the mesmerizing world of natural stone as we explore the offerings. The Legacy of Kishangarh's Stone Industry Kishangarh, often referred to as the "Marble City of India," boasts a centuries-old tradition of crafting exquisite natural stone products. This city has been a cradle of creativity for sculptors, artisans, and craftsmen who have transformed raw stone into masterpieces. We are deeply rooted in this rich heritage, and its commitment to quality and innovation has made it a leader in the industry. The Pinnacle of Quality; it's a legacy that has been passed down through generations. With a dedication to delivering the finest quality marble and granite, We have become a trusted name not only in Kishangarh but also in the international market. Their journey towards excellence has been paved with relentless dedication and a passion for perfection. The Diverse Range of Granite we boasts an extensive collection of granite that caters to a wide array of tastes and selections. From the classic elegance of Absolute Black Granite to the striking beauty of Himalayan Blue Granite, they offer a spectrum of options that can transform your space into a masterwork. Each granite slab is a unique work of nature, with distinct patterns and colours that can elevate any interior or exterior design. Mesmerizing Marble Selection Marble has long been associated with luxury and sophistication, and it takes pride in delivering an exquisite range of marble. Their collection includes the timeless appeal of Makrana Marble, the captivating beauty of Italian Marble, and much more. Whether you are looking to create a stunning countertop, flooring, or a statement piece, Our marble selection is sure to exceed your expectations. Quality Assurance and Sustainability: comprehends that quality is non-negotiable when it comes to natural stone. They have implemented rigorous quality control measures to ensure that every slab leaving their premises meets the most elevated industry standards. Moreover, the company is committed to endurable practices, minimizing its environmental impact while delivering premium stone products. Unparalleled Customer Service our commitment to consumer satisfaction goes beyond just supplying stone. Their team of experts is dedicated to guiding you through the selection process, offering valuable insights, and ensuring that your project receives the perfect stone. With us, you're not just a customer; you're a partner in creating something memorable. International Reach JSB Stonex's reputation for quality has transcended borders, and they proudly export their exceptional granite and marble to international markets. Whether you are based in India or abroad, you can access the beauty of Kishangarh's natural stone through us. Conclusion In the world of natural stone, JSB Stonex shines as a beacon of quality, craftsmanship, and innovation. Their dedication to preserving the legacy of Kishangarh's stone industry while embracing modern sustainability practices sets them apart. Whether you are searching for the best granite in Kishangarh or the most exquisite marble, We are your trusted partner on your journey to transform spaces into works of art. Explore their diverse range, experience their unmatched customer service, and witness the timeless beauty of natural stone come to life. Our offerings of the best granite and marble in Kishangarh. Customization and Design Expertise we understands that each project is unique, and they offer customization services to cater to your specific needs. Their team of skilled craftsmen can transform natural stone into intricate designs, ensuring that your vision comes to life. Whether it's a complex mosaic, an intricate inlay, or a custom-cut slab, JSB Stonex has the expertise to create one-of-a-kind pieces that elevate your space. Residential and Commercial Applications The versatility of JSB Stonex's granite and marble extends to various applications, both residential and commercial. For homeowners, their natural stone products can add timeless elegance to kitchen countertops, bathroom vanities, and flooring. In the commercial sector, their stone is the choice of architects and designers for creating stunning hotel lobbies, office spaces, and public areas that leave a lasting impression. Latest Trends and Inspirations Staying at the forefront of design trends is crucial in the world of interior and exterior décor. We keeps a keen eye on the latest design trends, regularly updating its inventory with new and exciting stone options. Whether you're looking to embrace a classic, timeless look or a more contemporary and avant-garde design, JSB Stonex has the stone to inspire your project. Project Portfolio and Testimonials Our success story is best told through its extensive project portfolio and satisfied customer testimonials. Explore their portfolio to witness how their granite and marble have transformed ordinary spaces into extraordinary ones. Additionally, read through the testimonials of clients who have experienced the superior quality and service that JSB Stonex is known for. Competitive Pricing and Value We believes that premium quality natural stone should be accessible to a wide range of customers. They offer competitive pricing without compromising on the quality of their products. When you choose JSB Stonex, you not only get the best granite and marble in Kishangarh but also exceptional value for your investment. Maintenance and Care Tips To ensure the longevity and beauty of your natural stone, We provides valuable maintenance and care tips. They understand that proper care is essential to preserve the elegance of granite and marble, and they are committed to helping you maintain the allure of your stone surfaces for years to come. Visit Our Showroom To truly appreciate the beauty and quality of JSB Stonex's granite and marble, we invite you to visit our showroom in Kishangarh. Witness firsthand the stunning array of stone options and consult with our experts to find the perfect stone for your project. We are eager to welcome you and assist you in creating spaces that tell a story of timeless elegance and craftsmanship. Incorporating these additional sections into your content not only provides more information to your readers but also allows you to integrate the targeted keywords. This comprehensive approach to content creation will enhance your website's SEO and engage your audience effectively.
Follow us for, latest update on social media.
We are proud to have the ability to supply a big array of beautiful marble, from the smallest to the largest quantity of blocks, slabs and tiles, anywhere, worldwide.
Imported White Marble

Whenever we talk about the concepts of cleanliness, simplicity and purity our mindset just suggests to us that these are the same characteristics a white colour symbolizes.

Imported New Collection

Vitae adipiscing turpis. Aenean ligula nibh, mo lest ie id viverra a, dapibus at dolor. In iaculis viverra ne que, ac eleifend ante lobortis.

Imported Beige Colour

As beige colour is the symbol of peace and calm every person wants to get this colour on their house in order to maintain a healthy environment in all around their surroundings.

Onyx

Whenever we talk about the concepts of cleanliness, simplicity and purity our mindset just suggests to us that these are the same characteristics a white colour symbolizes.

Travertine / Elevation

Travertine has been used in a wide range of building materials since ancient times. In fact, it has been considered as one of the most beautiful materials. It is often visibly porous giving a more natural and textured look.

Exotic Colour

Exotic stones & stone master is one of leading processor & exporter of indian granite's & marbles in form of blocks, slabs, tiles & monuments.
1 / 6
One of my friend purchased Imported marbles from JSB Stonex and he suggested me to purchase from JSB. It was a very excellent decision of mine that I chose what my friend has suggested to me. Having a wide range & premium quality.
TANISHK, MUMBAI
It was very excellent to have the visit to the showroom of JSB Stonex as there I got to find a large variety of impressive Imported marble and that led me to confusion as to which marble to pick among all these amazing options. That was really an amazing experience.
RAVI, DELHI
All I wanted was some good quality imported marble to install at my office to make it look more professional and when JSB Stonex introduced me with a variety of their beautiful collections of imported marble, I was literally impressed with their collection.
SUCHITA, JAIPUR
I wanted to decorate my new home's kitchen countertop with the finest marble and for that I researched on google to find the same where I found JSB Stonex and saw its collection. I am truly stating that just a day after I visited their showroom and purchased that marble within no time.
PRIYAL, CHENNAI
I was just visiting random showrooms to meet the my best expectation for the finest imported marble for my flooring needs until I visited the showroom of JSB Stonex where I got presented with a variety of beautiful elegant imported stones which were easily getting up to my expectation scale.
SHUBHLAKSHMI, KERALA
I purchased marbles from JSB Stonex nearly 6 months ago and I'm writing this review now as the imported marble bottichino I purchased from here is still in the same state that I purchased it like a month ago. It was a very valuable as well as a very durable purchase for my house.
KHUSHWANT SINGH, BENGALURU
I was really searching a lot for imported marble which could satisfy my needs for flooring and wall cladd of my house. With all the suggestions of friends and also my personal research I ended up with JSB Stonex and I am proud that I selected them for my imported marble requirement.
DEEPANSHI, HYDERABAD
I am very possessive about decorating my home with the best marbles and in order to deal with the same I visited the showroom of JSB Stonex Kishangarh where I found a wide range of Imported Marbles, Beige & other colors. Though it took a lot of time to select one, the staff was really very kind to me.
AYUSHI, CHANDIGARH
When I thought about purchasing imported marbles for my new office in order to make the look of my office more professional, I was not sure enough. As I know, I was told that imported marbles would not be able to suit my budget but JSB Stonex proved all of them wrong & they offered best price to me.
HARSHWARDHAN, KOLKATA
Prices were a big issue for me whenever I reached any imported marble showroom in Kishangarh but thanks to JSB Stonex who provided me with a large variety of imported marbles at a very affordable price. Also, it was a very good experience there as the staff there was truly very supportive. They followed to me until my material reached to my destination.
ABHILASHA, THRISSUR