White Marble In Kishangarh
Marbles have been a symbol of beauty and elegance for centuries, and they have been used extensively in architecture and design. The use of white marbles in homes and offices is a trend that has gained popularity in recent years. White marble has become one of the most sought-after materials in interior design because of its timeless beauty and versatility. Thus, welcome to JSB Stonex, the leading supplier of premium quality white marble. We source our White Marble in Kishangarh from the best quarries across the globe, ensuring that we offer only the finest quality products to our customers. Our white marble collection is renowned for its exceptional beauty, durability, and versatility, making it a popular choice for both residential and commercial projects.
First and foremost, our White marble in Kishangarh is aesthetically pleasing. They are elegant and sophisticated, and they can give any space a luxurious look and feel. The natural beauty of white marble lies in its veins and patterns, which are formed by different minerals and impurities. This uniqueness of white marbles adds character to any space, making it look visually stunning. They are also versatile in their use and they can be used in a variety of settings and applications. For instance, they can be used as countertops in kitchens and bathrooms, as flooring in living rooms and bedrooms, and as wall cladding in offices and public spaces. The versatility of white marbles lies in their ability to complement any design style, whether modern, traditional, or contemporary.
Lilac White
Staturio Venatino
Volakas White
Lasa White
Albeta White
Thassos White
White Marble In Kishangarh
In addition to their aesthetic appeal, white marbles are also durable and long-lasting. They are a natural stone that can withstand wear and tear, making them an ideal choice for high-traffic areas. Unlike other materials, white marbles are resistant to scratches and stains, making them easy to clean and maintain. This durability and low maintenance make white marbles a cost-effective option in the long run.
White marbles also have a natural cooling effect, which is particularly beneficial in hot climates. They can absorb heat and keep the temperature cool, making them ideal for flooring and walls in homes and offices. The cooling effect of white marbles also makes them an eco-friendly choice as they reduce the need for air conditioning and artificial cooling. Another reason why white marble in Kishangarh has become popular in the present generation is their association with luxury and wealth. White marbles have been used in grand palaces and mansions for centuries, and they are still associated with opulence and extravagance. The use of white marbles in homes and offices, therefore, adds a touch of luxury and sophistication, making the space look expensive and exclusive.
Why Choose White Marble from JSB Stonex?
At JSB Stonex, we believe that excellent customer service is essential to building long-term relationships with our customers. Our team of experts is dedicated to providing our customers with exceptional service and guidance throughout the entire process, from selecting the right variety of the white marble in Kishangarh to installation and maintenance. We strive to exceed our customers' expectations in every interaction, and we are committed to delivering the best possible experience to them.
White marble is a material that is sure to stand the test of time, and we are always proud to be a part of this enduring legacy. We are passionate about what we do and are committed to providing our customers with the highest quality white marble and also with our best services available.
Conclusion
In conclusion, white marbles have become the most beautiful thing to decorate homes and offices in the present generation because of their aesthetic appeal, versatility, durability, natural cooling effect, and association with luxury and wealth. White marble are not just a trend but a timeless classic that will continue to be a popular choice in interior design for years to come. We understand the importance of delivering exceptional quality and service to our customers, and we are always committed to providing them with the best quality white marble in Kishangarh.
Applications White Marble is a timeless and versatile natural stone that has been prized for centuries for its beauty, elegance, and durability. Its unique properties make it a popular choice for a wide range of applications in architecture, interior design, and art. In this article, we will explore the various applications of white marble and the reasons behind its enduring popularity. Architectural Marvels: It has graced some of the world's most iconic architectural wonders. From the majestic Taj Mahal in India to the classical sculptures of ancient Greece, it is made to be used to create stunning facades, intricate columns, and breathtaking sculptures. Its luminous and pure appearance enhances the grandeur of any architectural masterpiece. Flooring: It is a popular choice for flooring in both residential and commercial spaces. Its natural veining and color variations add character and sophistication to any room. Its durability ensures that it can withstand high traffic areas, making it a practical and luxurious choice for entranceways, lobbies, and living spaces. Countertops and Vanity Tops: Its countertops and vanity tops exude luxury and elegance. They are not only aesthetically pleasing but also heat-resistant, making them suitable for kitchen countertops. However, they do require regular sealing to protect against stains and etching. Bathrooms: It is a classic choice for bathroom surfaces, including shower walls, floors, and vanities. Its clean and bright appearance creates a spa-like atmosphere, and its moisture resistance makes it an ideal material for wet areas. Sculptures and Art: Throughout history, artists have sculpted and carved white marble into intricate and exquisite works of art. Its fine grain and ease of carving make it a preferred material for sculptors, producing masterpieces that continue to captivate audiences. Fireplaces: It is a popular choice for fireplace surrounds and mantels. Its timeless beauty adds a touch of sophistication to any living room or bedroom. The natural heat resistance of marble makes it a practical choice for this application. Wall Cladding: It is used to clad entire walls or create accent walls in interior spaces. Its reflective properties can help brighten rooms and make them feel more spacious. Monuments and Memorials: It has been used to commemorate historical events and honor individuals throughout history. Its enduring quality ensures that these monuments and memorials stand the test of time. Furniture and Decor: It is often incorporated into furniture design, including coffee tables, dining tables, and decorative items. Its combination of elegance and functionality adds a touch of luxury to interior spaces. Outdoor Use: While White Marble is not as commonly used outdoors as some other stones, it can be employed in landscaping and garden design. Its graceful appearance can be used to create stunning outdoor sculptures, fountains, and patios. Visit Our Showroom Experience elegance and luxury at JSB Stonex's showroom. Explore a wide range of beautiful options as you browse our exquisite collection of marbles. Witness the timeless allure of these materials up close, meticulously crafted to adorn your spaces. Our knowledgeable staff awaits to guide you through the possibilities, helping you turn your design dreams into reality. Visit us today and elevate your space with the elegance of JSB Stonex.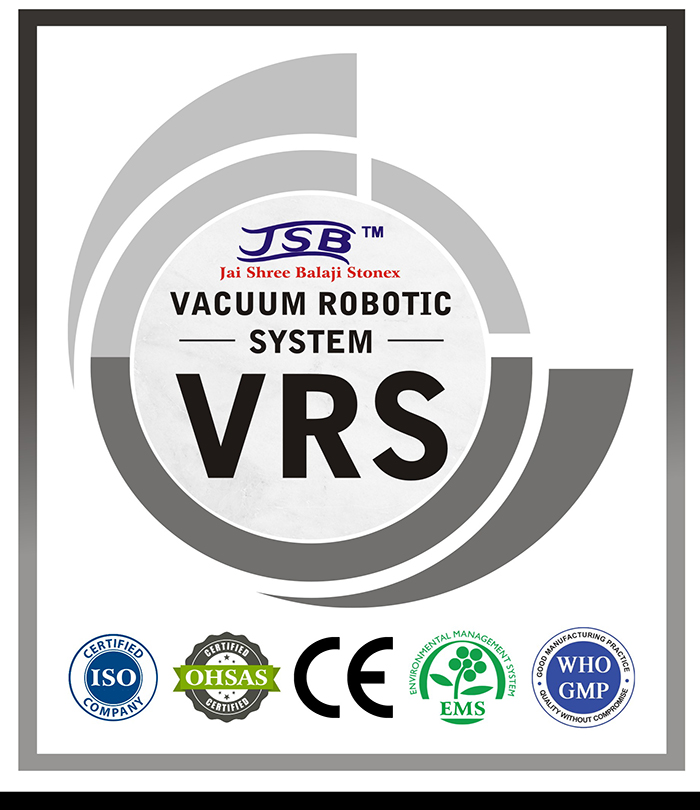 Vacuum Robotic System (VRS) for marble processing first - step acqistion process for best quality blocks reinforced and cut according to international criteria double-sided italiyan epoxy for structural effectivness stedfastness quality guaranteed for present and future

Download the Catalogue
If you're looking to explore over 500 varieties of exquisite stones from across the world, glance through our catalogue or get in touch with us.