Statuario White Marble in Kishangarh
Statuario
Statuario White Marble in Kishangarh is a highly sought-after material known for its elegance and beauty. It is a white marble with distinctive grey veining, and it is named after the quarry from which it is extracted in the Carrara region of Italy. Statuario marble is commonly used in high-end residential and commercial applications, such as countertops, flooring, and wall cladding.
Elevate Your Home Design with Statuario White Marble
Statuario White Marble is a highly sought-after natural stone material that is known for its elegant and luxurious appearance. It is a type of marble that originates from Carrara, Italy, and is prized for its white background and distinctive grey veining pattern. The name "Statuario" comes from the Italian word "statue," which reflects the material's long history of use in the creation of sculptures and other works of art. Today, this marble is widely used in the world of home decor and is a popular choice for flooring, countertops, and wall cladding.
One of the primary reasons why this marble is so highly prized is its stunning appearance. The white background of the marble is adorned with intricate grey veining that creates a beautiful and unique effect. The veining pattern can range from subtle and understated to bold and dramatic, making it a versatile material that can complement a variety of design schemes. Another advantage of this marble is its durability. It is an ideal choice for high-traffic areas like kitchens and bathrooms as this material is highly resistant to scratches, heat, and stains. With proper care and maintenance, this marble can last for decades, making it a smart investment for any home or commercial property.
In addition to its durability and beauty, this marble is also a sustainable and eco-friendly choice for home décor. It is a natural material that is extracted from quarries, and its production does not contribute to environmental pollution or the depletion of non-renewable resources. When it comes to the cost of Statuario White Marble, it is generally considered a high-end material. However, its durability, beauty, and versatility make it a worthy investment for those who are looking for a long-lasting and elegant solution for their home décor needs. In terms of maintenance, it requires regular cleaning and sealing to maintain its beauty and durability. A soft cloth and a mild soap solution are enough to keep the marble surfaces looking new for years to come.
Statuario White Marble In Kishangarh
JSB Stonex is a leading supplier of premium quality natural stone materials in India, including Statuario White Marble. Our team of experts carefully sources the finest marble from the best quarries in Italy and other parts of the world to ensure that our customers receive only the highest quality products. It is known for its high-quality production and supplying of luxurious marbles. We provide some of the most sought-after varieties of this marble, and our local artisans have years of experience in cutting and polishing the stone to perfection. This makes JSB Stonex's showroom in Kishangarh, a popular destination for those looking to source premium quality marbles for their home décor projects.
Our Statuario White Marble is perfect for a range of applications, including flooring, countertops, and wall cladding as they are highly durable and resistant to scratches, heat, and stains, which thus make that an ideal choice for high traffic areas like kitchens and bathrooms. With proper care and maintenance, our marble products can last for decades, making them a smart investment for any home or commercial property. We are committed to providing our customers with the highest level of service and quality products while using state-of-the-art technology and equipment to ensure that our marble products meet the exact standards that our customers desire.
In conclusion, Statuario White Marble is a highly desirable and elegant natural stone material that is widely used in the world of home decor. Its distinctive white background and grey veining pattern, along with its durability and sustainability, make it a popular choice for homeowners and designers looking to create a luxurious and sophisticated living space. And with JSB Stonex's reputation for producing premium quality Statuario White Marble in Kishangarh, homeowners and designers can be assured of a superior product that will stand the test of time.
Key Features Statuario White Marble is a prestigious natural stone renowned for its timeless beauty and versatility. Here are its key features: Pristine White Elegance: It is characterized by its brilliant white background, radiating a sense of purity and sophistication. This immaculate canvas serves as a perfect backdrop for various design styles. Graceful Gray Veining: The marble is adorned with delicate gray veining that meanders across its surface like a work of art. These veins add a touch of complexity and visual interest, making each slab a unique masterpiece. Versatile Applications: This marble variety seamlessly integrates into various design schemes, from classic to modern. It is suitable for countertops, backsplashes, flooring, wall cladding, and more, offering endless possibilities for interior design. In summary, Statuario White Marble captivates with its pristine white backdrop, graceful gray veins, durability, and timeless charm. It's a versatile choice that can elevate the aesthetic of any space while adding a touch of luxury and sophistication. Timeless Elegance and Luxury When it comes to crafting spaces that exude timeless elegance and luxury, SStatuario White Marble In kishangarh is the undisputed choice. JSB Stonex offers you access to the finest Statuario Marble collection that adds a touch of opulence to any setting. Renowned for its pristine white background and striking grey veining, this marble is a testament to nature's artistry and has been cherished for centuries. Durability and Longevity Statuario White Marble isn't just about aesthetics; it's also about longevity. This marble variety is renowned for its durability and resistance to wear and tear. With proper care and maintenance, it can withstand the test of time, retaining its pristine beauty for generations to come. Natural Beauty, Endless Possibilities No two Statuario White Marble slabs are identical, ensuring that your space will have a one-of-a-kind, natural aesthetic. Its versatility extends to both residential and commercial spaces, allowing you to elevate the look and feel of your interiors. From lavish hotel lobbies to cozy home kitchens, this marble adds an aura of luxury to every space it graces. Understated Luxury Statuario White Marble is the epitome of understated luxury. Its simple yet captivating design lends an air of sophistication to any environment, without overwhelming the senses. Whether used as a statement piece or as a backdrop for other design elements, its understated elegance is always in vogue. Maintenance and Care To preserve the beauty of your Statuario White Marble surfaces, regular cleaning and sealing are essential. Avoid harsh chemicals and abrasive cleaners, opting for pH-neutral solutions and a soft cloth for cleaning. With proper care, this stone will maintain its luster and allure for years to come. Visit Our Showroom We invite you to experience the exquisite beauty of Statuario White Marble firsthand by visiting our showroom. Our showroom is a sanctuary of elegance and inspiration. Step into a world of timeless luxury where you can explore a wide range of Statuario White Marble products in various applications, from pristine countertops to stunning flooring and wall cladding. Our knowledgeable staff is ready to assist you in selecting the perfect marble slabs for your project and provide expert guidance on its care and maintenance. Witness the unmatched beauty and versatility of this prestigious natural stone in a setting designed to inspire your creativity. Contact Us Today! In Kishangarh, JSB Stonex brings you the finest Statuario White Marble collection, a testament to nature's beauty and craftsmanship. Elevate your living spaces with this timeless and versatile marble variety, and experience the unparalleled luxury it offers. Statuario White Marble is not just a choice; it's a statement of opulence that will stand the test of time.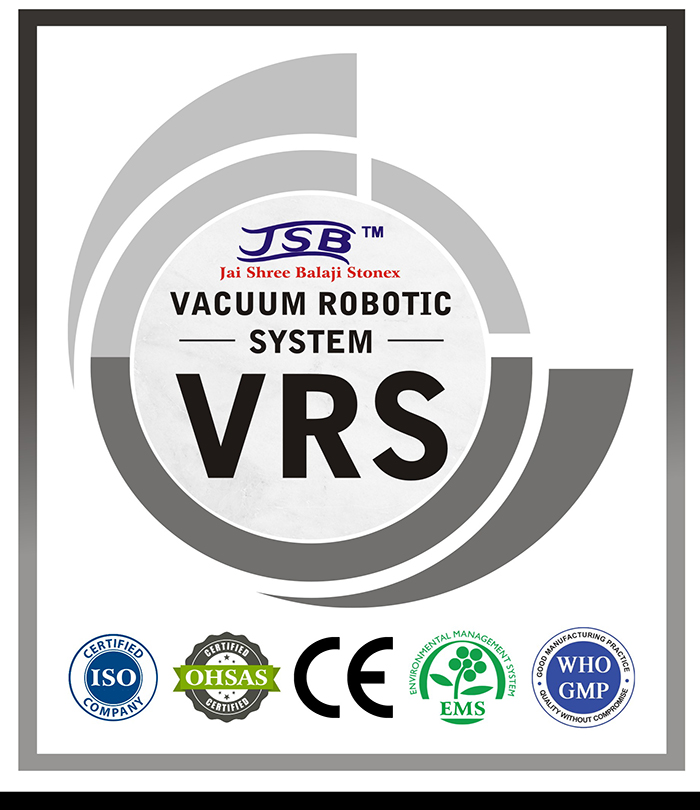 Vacuum Robotic System (VRS) for marble processing first - step acqistion process for best quality blocks reinforced and cut according to international criteria double-sided italiyan epoxy for structural effectivness stedfastness quality guaranteed for present and future

Download the Catalogue
If you're looking to explore over 500 varieties of exquisite stones from across the world, glance through our catalogue or get in touch with us.




Follow us for
latest update on
social media.